Each agency is listed according to the level of help you can receive, to allow you to choose a service that best suits your needs.
| | | |
| --- | --- | --- |
| | Advice Point | Face to face interview to help diagnose enquiry and next steps to reach a resolution including referral to another agency, contacting third party on behalf of client, completing forms etc. |
| | Supported Advice Point | All of the above including: taking action on behalf of the client to move the case on e.g. negotiating on behalf of the client with third parties taking responsibility for follow up work. |
---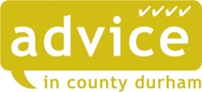 Citizens Advice County Durham is an independent charity. We are able to assist anyone who is over the age of 16 and lives, works or studies in County Durham.
We provide free, confidential, independent and impartial advice on wide range of issues including, Benefits, Consumer, Debt & Money, Discrimination, Education, Employment, Family, Health, Housing, Legal and Tax.
Our Advice Line is open Monday to Friday 10am to 4pm on 03444 111 444
For information on our locations and opening hours, please visit our website at www.cdcab.org.uk
Alternatively you can contact our main switchboard on 0300 323 1000
---
We can support you to get or hold on to housing or accommodation whilst developing your independent living skills. If you are:
Aged 16 to 25
Living In County Durham
In need of advice & assistance regarding housing issues
In need of housing support
Our range of housing advice and support services can support you to:
Hold on to your current tenancy
Access appropriate housing
Develop life skills
Resolve Neighbourhood disputes
Access a bond and a home through private landlords
Move In - set up utilities, budgeting and accessing furniture
Understand your tenancy agreement
In addition we can also support you to access other services including:
housing support
health services
education, training and employment
treatment for drug or alcohol use
Telephone: 01325 731160
Website: www.disc-vol.org.uk/servicefinder/services/county-durham
Opening hours are Monday to Friday 8.45am to 4.45pm
---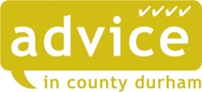 Advice and support for the people of East Durham who wish to return to work, offering a tailored approach based on the individual's barriers and needs; focussing particularly on those with health issues requiring a personalised approach to removing constraints and enabling the move into sustained employment. Key topic areas including welfare benefits and employment.
For more information please visit our website www.northernrights.org.uk
Telephone: 0191 5974943
---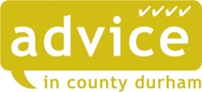 Information and advice is one of our key services. We help people make sure they are receiving the correct income and benefits, help with advice about living in their home and make sure people are making full use of the services available to them.
For more information about our locations and opening hours, please visit our website www.ageukcountydurham.org.uk/countydurham
Telephone: 0191 3746367
Email: your.rights@ageukcountydurham.org.uk
---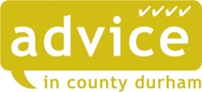 We offer specialist advice and information to Carers on a wide variety of issues from Community Care, Education or Housing to supporting Carers to look after their own financial and health needs. We support via a home visit to provide practical help with completing forms, gaining benefits, grants and other funding or a listening ear through telephone support. The service facilitates opportunities to meet other carers, support services and ensuring carers have their voices heard. Patch based Support Co-ordinators allow a named worker for continuity of support.
For more information please visit our website at www.dccarers.org
Telephone: 0300 0051213
Email: admin@dccarers.org
---
Parkinson's UK
Parkinson's UK Local Adviser Service has two part time advisers operating in the County Durham area. They support people affected by Parkinson's by providing one to one information and emotional support.
For more information please visit our website at www.parkinsons.org.uk
Telephone: 0808 800 0303